The ongoing pressure on infrastructures, shippers, carriers and logistic providers is predicted to continue until, at the earliest, the end of this year.
The pandemic has exposed the vulnerabilities of global supply chains. These extraordinary challenges should be seen as an opportunity for the many actors in the market to review the situation and find a new way of interacting that will result in a more flexible, intelligent, and cooperative business model.
A disturbed Supply/Demand balance exacerbating infrastructure challenges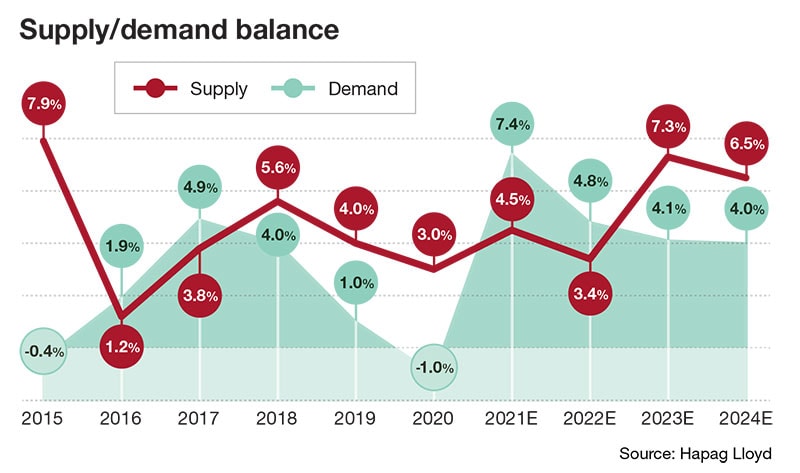 Since early 2020, shippers have been experiencing disturbing scenarios, resulting from container shortages, ports & airports congestion, highly increasing freight rates, and of course, the pandemic crisis that cut off neatly the demand for cargo in 2020, still impacting the market currently and for some time to come.
Covid variants Omicron & others could "exacerbate the already existing delivery bottlenecks", warns German economist Monika Schnitzer, explaining that shipping times between China & the US have already increased from 85 to 100 days due to the Delta variant, and expected to increase again. Meanwhile, the ports are facing congestion issues. Rotterdam, Europe's largest seaport, is reaching its max storage capacity and the European connections are not running smoothly. Emile Hogsteden, commercial director of Rotterdam's seaport, explains this issue by the "international container ship fleet and terminal capacity not growing at a rate commensurate with demand". Maersk, one of the leading carriers on the market, warned its customers that the waiting time for container vessels to operate cargo in American hubs is expected to increase by 20%.
As opposed to the past years, during which both supply and demand grew proportionally and progressively, the 2020 scenario is unique. The supply is not in motion with the highly increased post-Covid demand, and this leads experts to estimate that the pressure on global supply-chains will continue in 2022. "The balance in supply and demand is still violently topped towards the shipping lines", remarks Thomas Cullen, author at Transport Intelligence, noticing that "Demand has been deformed as the structure of trade has evolved". Lastly, according to Container xChange, 75% of the container logistics industry is rethinking its strategy for 2022, leading the industry to be disrupted and evolved in the following years.
Therefore, shipping conditions could return to "normal", but shippers must expect prices and charges to be and remain high during 2022.
Carriers benefitting from it
While shippers are facing challenges and pressure, 2021 was a flourishing year for carriers leaders.
The strong demand recovered in Europe and USA, along with a fast return to production in Asia has favored a wealthy economy for the sector. In fact, the 10 leading shipping lines of the market recorded an operating profit of more than 110 billion dollars in 2021, because of the "absurd nature of the supply and demand situation", according to Sea Intelligence CEO Alan Murphy. Maersk, co-leader of the market with MSC, reported a net income of 17 billion dollars in 2021 holding 18% of global market shares.
While the struggles remain important for the other actors, carriers are investing and expanding to match the market evolutions. Maersk bought FL Logistics, a Hong Kong based company, to expand its coverage and logistics capabilities in Pacific Asia. PSA International (Singapore), acquired 100% of BDP International, provider of global integrated supply-chain. With this acquisition, PSA expects to benefit from the 133 offices worldwide, and address the management of a highly complex supply chain. Meanwhile, a new key actor of the industry is about to attract attention. According to Reuters, a new company called China Logistics Group, a merger of 5 state-owned companies in China, is arriving on the market with 4.7 billion dollars of charter capital. China Logistics Group will provide a wide range of logistics services, benefiting from infrastructures & facilities present in 5 continents, allowing China to increase its cross-border logistics ability.
Forwarders adapts to the demand
Facing these challenges, especially on increasing demand and freight rates remaining high, forwarders are adapting their services to meet international customers expectations.
Geodis launches its own-leased dedicated (and branded) A330-300 freighter to operate between Europe, USA & Pacific Asia. "With the continued strain on air freight capacity, we wish to ensure a more sustainable supply of air cargo space for our clients and are therefore investing in this," says Geodis' CEO.
Dachser USA has also witnessed an increase in new services developed to relieve from the dependance to other logistics actors. Its weekly transatlantic freight service has seen its usage drastically increased by +85% during 2021. "It has proven to be such a dependable, efficient solution that this route has become a cornerstone in our global air freight services network," says Andy Frommenwiler from Dachser USA.
Disrupting logistics and supply-chain
This pandemic has exposed multiple issues with the current business models in place on current international logistics. In response to these challenges that they will continue to face for the years to come, actors need to visualize logistics as a whole and pivot to a flexible and cooperative business model, allowing a more intelligent, efficient and sustainable supply chain.
Not only in terms of investments and capacity, such as what is done massively in the US, but also from a creative and partnership standpoint. The future of the supply chain lies in a seamless connection between all stakeholders, and "will take the form of intelligent and connected ecosystems, where shipments and capacity move in sync and in real-time", as per Shelley Simpson, top executive at JB Hunt. It would require shedding the current silo structure and pushing collaboration forward in "areas where in the past might have been seen as problematic".
Future success needs more precise load-matching, combined with a better overview of the network's movements, and an efficient match of freight with capacity. This would significantly reduce costs and environmental impact.
Impact of the situation for De Monchy Natural Products' customers
Our customers are well aware of the logistical challenges and have adapted accordingly, expecting higher freight costs and possible delays.
For our Vanilla products, the situation is not so dire, since most of our orders are shipped by air freight. While cost and availability have been a challenge in the beginning of the year, the situation has now stabilized and is a lot more reliable with little disruption.
For our spices, and most notably our Cassia products, our customers should be aware of the logistical challenges of sea freight and place their orders accordingly. With the high season for cassia approaching, orders should be placed well in advance to ensure stock availability for their customers by October.
Meanwhile, our logistics teams are working closely with our shipping partners to ensure freight slot availability and closely monitor our shipments throughout the world.