As a leading actor in the vanilla & spices industry for years, sustainability is a topic at the forefront of our activities. Not merely following market trends, running a sustainable business is at the core of our mission and vision.
Being present at the source is a strength, allowing us to clearly identify the obstacles in the supply-chain and commit to a direct solution that is sustainable in the long-term, both for the market economy and the local living conditions.
Sustainability: what does it mean?
Sustainability (and particularly sustainable development) means meeting the needs of the present without compromising the ability of future generations to meet their own needs. It involves several aspects of a business, balancing economic growth, social progress, environment protections and local living conditions (among other variables).
That said, Sustainability isn't an end, but an ongoing process filled with continuous improvements of sustainable actions implemented in our business activities. Consolidated with constant re-evaluation and normalized standards, sustainable development is a concept that we, at De Monchy Natural Products, strongly believe in and have integrated into our core values: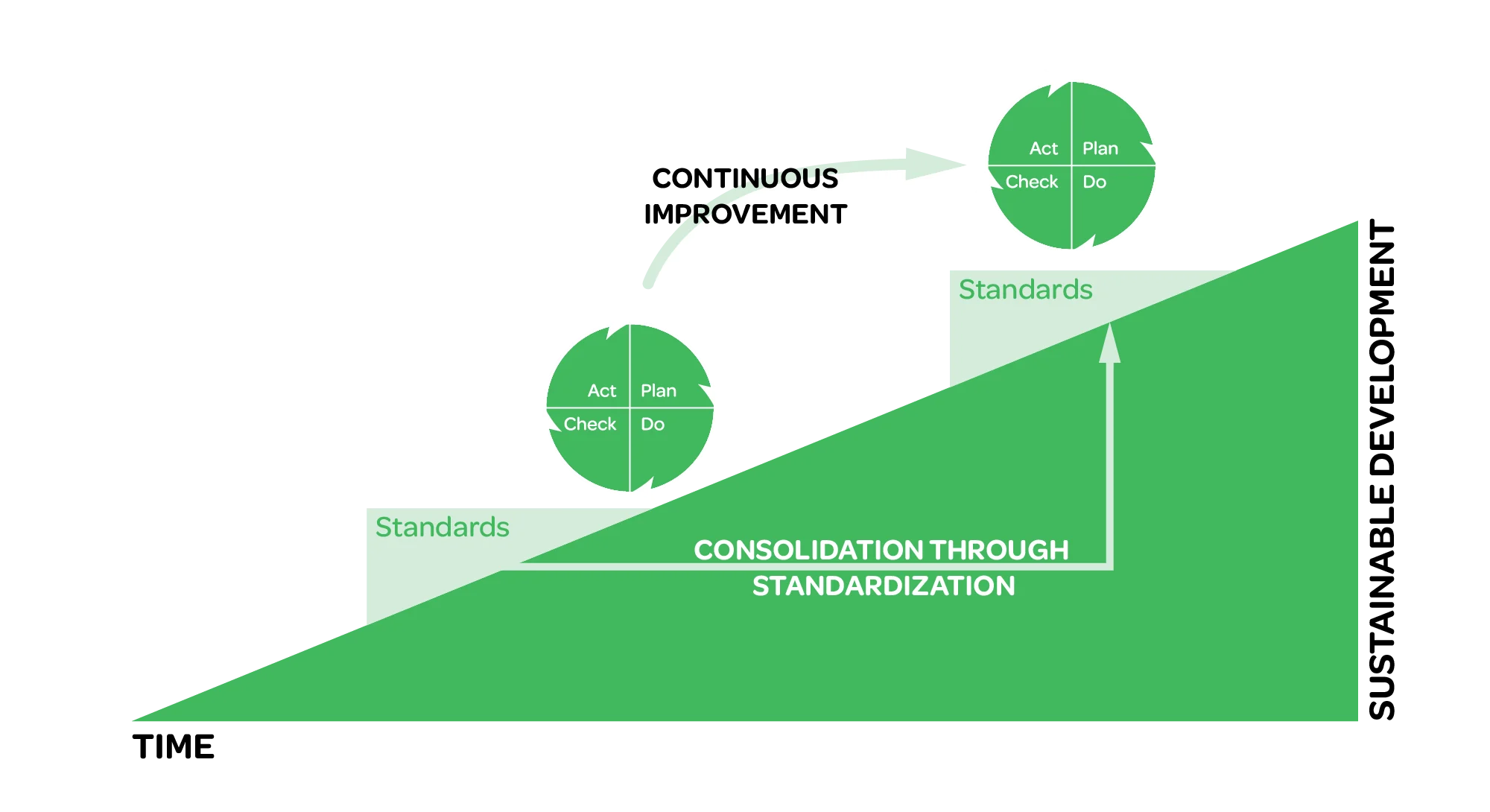 The spheres of Sustainability - ISO 26000
Sustainability exists at the overlaps between 3 main dimensions: the economic dimension, the environmental dimension and the social dimension (namely Profit, Planet and People).
The Profit sphere implies every aspect related to the economic variables of a business (profit, research and development, cost savings…). The Planet sphere is related to environmental matters (natural resources usage, pollution management…). And finally, the People sphere implies the standard of living, the education, the community, the equal access to opportunity.
However, these spheres must not be considered separate, but represent a balance as a whole of economic growth with environmental protection and social development to create and maintain the welfare of both the present and future generations. An equitable, bearable, and viable development will lead to an improved quality of life (a sustainable balance of each sphere!).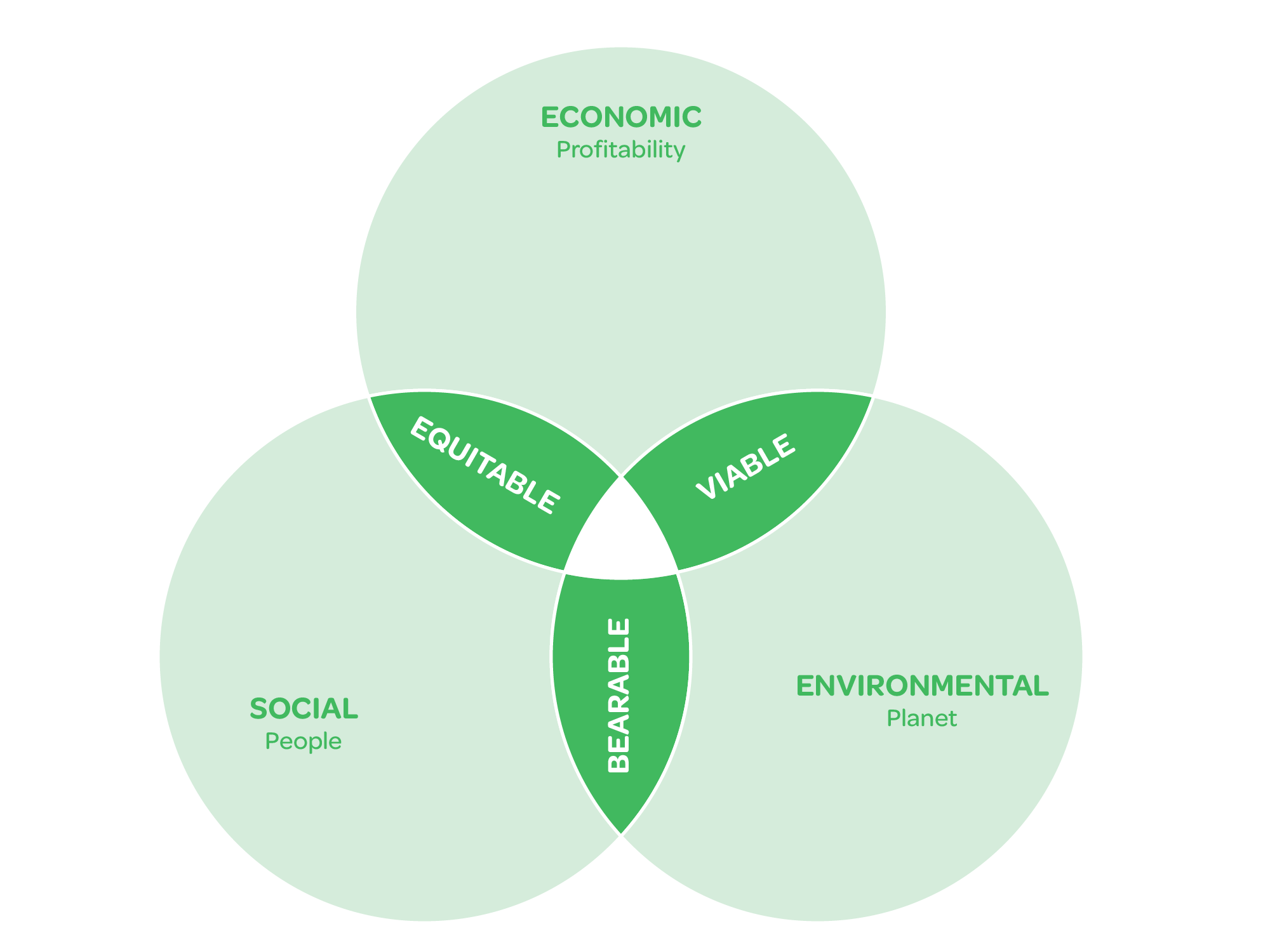 "Sustainability is a paradigm for thinking about the future in which environmental, societal and economic considerations are balanced in the pursuit of an improved quality of life."
Mesuring Sustainability in business
The evaluation of a business's impact on the social, environmental, and economic aspects of sustainability requires the use of various tools and reporting systems. It could include indicators, benchmarks, audits, certifications, indexes, assessments, and other reporting systems. The term "sustainability measurement" refers to the quantitative basis for managing sustainability, however, it is to note that the metrics used for sustainability measurement are continuously evolving.
As a member of Sedex, De Monchy Natural Products uses the Ethical Trading Initiative Base Code as a guideline for our sustainability practices.
Our commitment to Sustainability
At De Monchy Natural Products, we have implemented Sustainability in every step of our backward integrated supply chain, from the agriculture of the raw materials to the shipment of our customers' packed orders.
Sustainability in Agriculture
To this day, we have made and keep on making several improvements on our supply chain to grow towards sustainability. Agriculture being the very first step of our activity, it is crucial to genuinely commit to practices that have positive impacts on both the local community, the market and the environment.
To that extent, De Monchy Natural Products – Sambavanille initiated the Macky Association in Madagascar. This farmers association that counts more than two thousands members is sustaining local living conditions, fighting against products' scarcity and quality deterioration by maintaining economic support to farmers during the intercrop seasons. This support comes with education as well, to better inform our farmers and suppliers on quality and sustainability. Moreover, our traceability program is supported by geo-localisation technology, allowing us to precisely track our vanilla bean harvest.
In addition to these social initiatives, we are proud to have growing organic and fairtrade certifications harvests, and constantly aim to reduce the use of pesticides and fertilizers. In addition, by its nature, vanilla uses rainfall as a natural resource for irrigation without the use for additional systems. On the preparation side, sun drying is also the preferred method.
All these initiatives and decisions are monitored by local employment offices on our products' origins, such as in Madagascar and Indonesia, to secure our interests and ensure the standards' requirements are respected.
Sustainability in Processing
To maintain a high level of sustainability in our processing activities, we have developed various programs and initiatives that ensure we are not wasting products or degrading their quality. Our QA/QC teams have implemented HACCP, Pest Control, Maintenance, Sanitation, and Security Programs, along with Quality Control and Laboratory facilities on local sites. We also conduct regular assessments (e.g : Health and Safety Risk) and training (quality/HSE and QA Manual) to ensure that our team understands our requirements not only on food safety but also on sustainability and certifications (FSSC, Sedex, Organic).
We also understand the importance of social sustainability and have taken various initiatives to support our workers and their communities. Most notably, we have set up a Workers Association to support and sustain local living conditions at our Madagascar facilities.
Moreover, we have built a laundry room with recycled containers, washing workers' clothes with clean treated water from the well. This initiative not only benefits the workers but also helps us to reduce our environmental impact.
In fact, we commit to sustain the environment and natural resources to minimize our impact. As an example of this objective, we are proud to have our Madagascar site entirely energy-independent, thanks to solar panels and meters to monitor water and energy usage.
Sustainability in Logistics
Third part of our value chain, we believe that it is crucial to optimize our logistics activities in order to reduce our environmental impact and increase our efficiency.
To achieve this goal, we have implemented several initiatives that align with our sustainability strategy. One of the key measures we have taken is implementing HACCP (Hazard Analysis and Critical Control Points) in our logistics activities. This ensures that we are meeting food safety standards while also minimizing waste and reducing our environmental impact. In fact, we have been prioritizing packaging materials that are environmentally safe and re-usable, such as heat-treated pallets, cartons, and wax paper to minimize waste and environmental impact.
Additionally, we recently relocated to a new HQ office and warehouse, equipped with a laboratory and inspection lane, to enhance logistics. Another new site in Indonesia features an office, warehouse, inspection lane, and laboratory, with a focus on social and economic sustainability for local communities. We monitor transport metrics, preferring sea over air freight, to reduce our footprint. All these modifications in locations and equipment allow us to optimize logistics, fully loading shipments while we keep on seeking synergy to enhance efficiency and reduce our environmental impact.
At De Monchy Natural Products, we are committed to sustainability in every aspect of our business, and throughout our supply chain.
Sustainability is not an end, but a process/journey that requires continuous improvement and innovation. Our sustainability strategy is focused on reducing our environmental impact, improving the living conditions of our workers and suppliers, and providing high-quality, sustainable products to our customers.
While we have made significant progress towards our sustainability objectives, there is still much work to be done. Supporting initiatives such as the Sustainable Vanilla Initiative (of which we are a founding and steering committee member), the Feed the People program in Antananarivo (supported by the local government) or the actions in conjunction with Trivium Foundation are examples of our continuous efforts.
As a conclusion, sustainability is at the core of our business and we will continue to invest in initiatives and implement requirements that positively impact our environment, workers, suppliers, and customers. We understand that our sustainability missions are ongoing and we are committed to taking the necessary steps to achieve our goals.